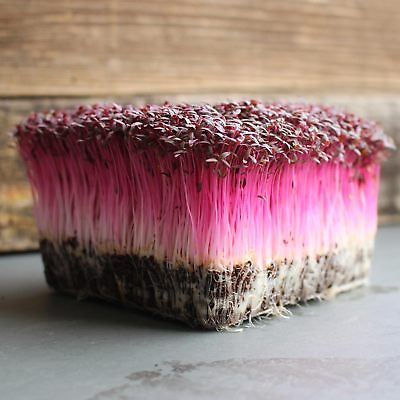 Amaranth was cultivated by Aztecs and other cultures from tropical climates. It is actually an ancient kind of grain used in India. Very easy to digest, Amaranth microgreens are available in different colors, from light green to pink or dark red. They are fragile shoots that enhances beautifully any meal with color and a light sweet taste. Amaranth contains high complete protein amounts with vital amino acids, in contrast with other protein sources. Amaranth is gluten-free. Amaranth microgreens also contain vitamin A, C, E, folate, iron, magnesium, phosphorus, potassium, dietary fiber, calcium, amino acids, antioxidants, minerals and essential lysine.
Health Benefits of Amaranth:
Helps in cancer treatment
Helps in treatment of cardiovascular disease and hypertension
Decreases hair loss and greying
Helps metabolize fatty acids into energy
Protects from Osteoporosis
Works as an appetite suppressant
Improves recovery from illness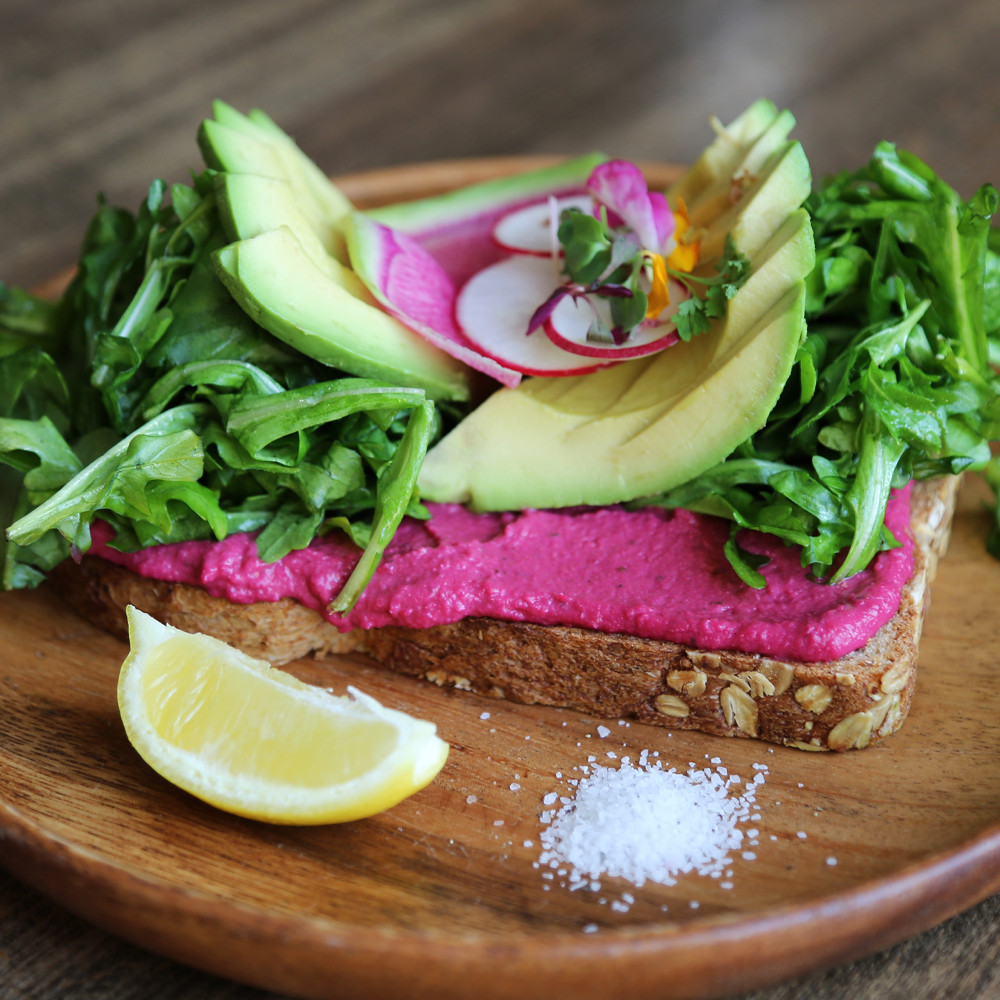 Considered as one of the most useful and healthiest natural superfood, this plant adds a health supplement to a variety of menus. Arugula is also known as rocket. The Arugula microgreen is flavorful with a peppery taste. The leaf is similar to the oak leaf. It is a great source of folic acid, iron, copper and a variety of minerals and vitamins A, C and K.
Health Benefits of Arugula:
Boost for bone and brain health
Improves mineral absorption
Activates the immune system
Beneficial for weight management
Protects the aging brain and cognitive decline
Reduces the amount of oxygen needed during exercise & enhances athletic performance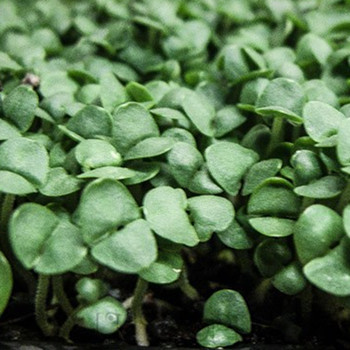 Basil is a common aromatic herb in the mint family, the same plant family as other nutrientdense, beneficial herbs, including mint, oregano and rosemary. The taste is sweet, but savory, and just like the smell, it is peppery, yet ever so slightly minty. Basil, of course, is used to add flavor to a variety of recipes, but what may surprise you is the many benefits of basil that make it well-known for its immunity-enhancing properties and is one of the most important medical herbs known today. Basil has vitamin A, K, C and manganese.
Health Benefits of Basil:
Contains disease-fighting antioxidants
Antimicrobial Properties that fight viruses and infections
Promotes cardiovascular health
Supports liver function and helps detoxify the body
Helps alkalize the body and improves digestion
 Acts as a natural aphrodisiac
Protects from diabetes and metabolic syndrome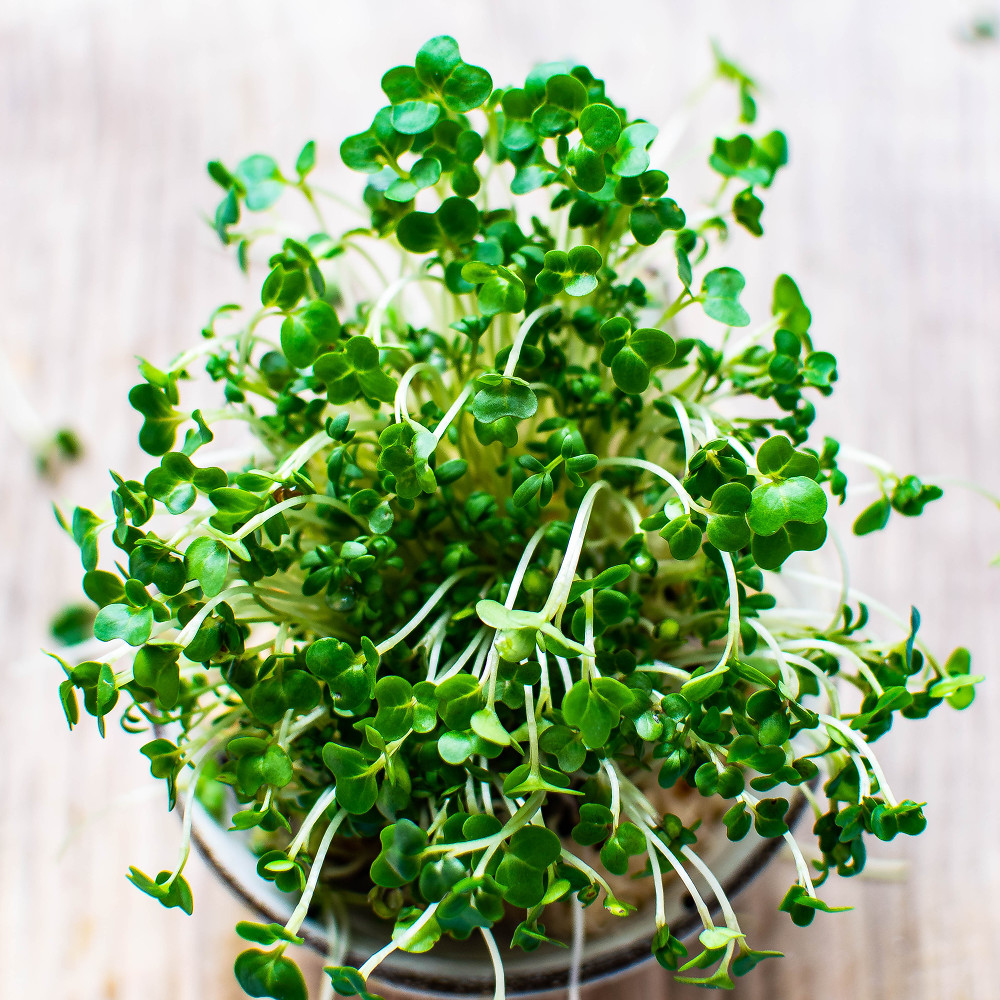 Corn is one of the most popular cereal in the world. The corn micro-green adds a sweet delicious flavor to your meals and embellishes plates delicately with its log golden leaves. Easy to serve fresh even to people that do not enjoy veggies. Known as a beneficial source of calories. Contains ferulic acid, Iron, beta-carotene and a wide variety of minerals and vitamins A, B, E, including Thiamin and Niacin.
Contributes in fighting tumors that leads to breast cancer as well as liver cancer
Recommended for a healthy skin
Help maintain good vision
Reduces risks of hemmorhoids
Lowers risk of colon cancer
Reduces cholesterol absorption in body
Reduces risk of various cardiovascular diseases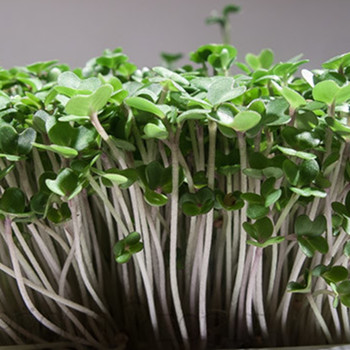 Mustard is the second most popular spice that is traded around the world. Mustard microgreens are a storehouse for many phyto-nutrients that have health promotional and disease prevention properties. Over the years, mustard has been imbued with curative powers. Mustard microgreens are tender, succulent and spicy. Many variety add different sharp flavors to a wide range of meals. They are very popular in Asian mix. Eating mustard microgreens offers a plateful of benefits. The mustard microgreen is a good source of vitamin A, C, E, energy and carbohydrates, proteins, dietary fiber, folate, niacin, riboflavin, thiamin, sodium, potassium, calcium, copper, iron, magnesium, manganese and zinc.
Health Benefits of Mustard:
Relieves congestion, good for allergies, infections or colds
Inhibits growth of cancer cells
Helps provide relief to rheumatic arthritis
Reduces occurrence of migraine
Assists in menopause relief
Contributes in asthma prevention
Stimulates hair growth and strength
Contribute to relieve muscle pains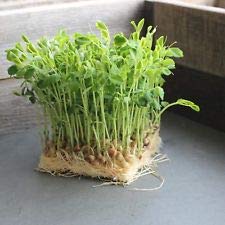 Peas are a powerhouse of nutrition and strong anti-oxidants. Peas have such high-quality protein that they are now added to many meals and commercial protein products. In taste, pea tendril microgreens are slightly sweet, with a mild bitter aftertaste, and they have a nutty undertone. The leaves have a texture similar to spinach, although not as delicate. Pea tendrils add freshness and a little crunch to dishes with rich and earthy flavors. Peas microgreens are low fat but high everything else. They contain protein, fiber, omega-3 and micronutrients. Rich in folate, carbohydrates, vitamin A, C, E, B1, B2, B3, B6.
Helps prevent stomach cancer
Enhance the immune system
Helps protect from Alzheimer
Protects from Osteoporosis
Contributes to regulate blood sugar level
Beneficial for weight management
Has anti-inflammatory properties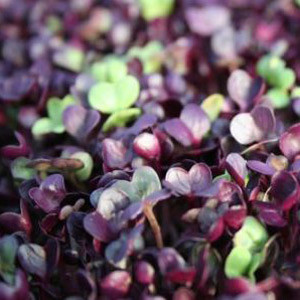 Radish is well known all around the world. The radish microgreens are very nutritious and popular. Many varieties of radish are available with different colors from ranges of red-pinkpurple to yellow and green. The radish microgreen is crispy, and its taste is sweet and pleasantly peppery also. The radish microgreen is a good source of vitamin C, energy and carbohydrates. It also contains zinc, potassium, folate, manganese, copper, sodium, phosphorus, dietary fiber, niacin, riboflavin, vitamin B1 & B6, calcium, iron, magnesium and so much more.
Health Benefits of Radish:
Anti-fungal and anti-bacterial
Has anti-inflammatory properties
Helps prevent lungs cancer
Recommended in jaundice treatment
Contributes to purifying the blood
Beneficial for weight management
 Proven to be beneficial in urinary disorders
Soothes the digestive system
Relieves congestion, good for allergies, infections or colds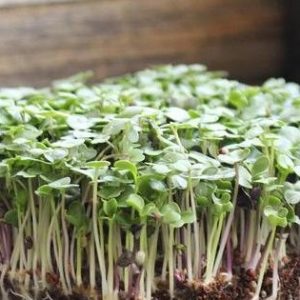 The Spring Salad green mixture consists of ¼ of the following varieties: broccoli, alfalfa, radish and red clover. This is a microgreen blend that offer a very sweet taste that is easily added to any dish. It is easy to integrate in your diet because it does not really affect the taste of your food The fact remains that its beneficial properties make it a winner for your health and energy.
Health Benefits of Salad:
Regeneration of the immune system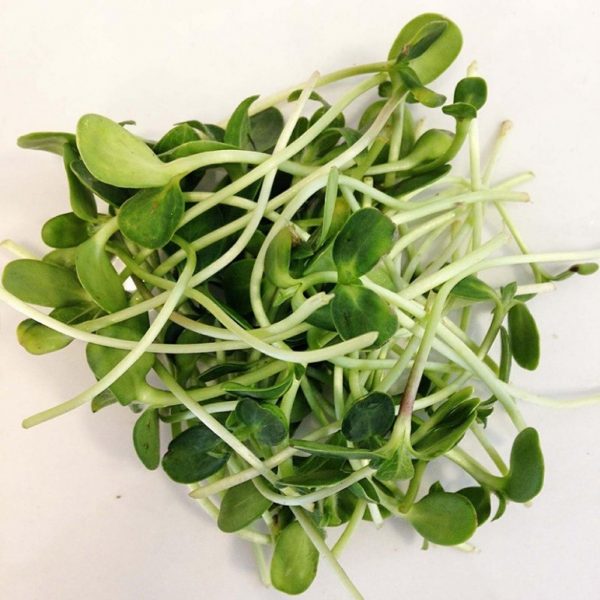 Sunflower microgreens offer one of the most balanced forms of a complete plant protein around. It is one of the best food to add to your diet for overall health and wellbeing. It has a strong stem and green leaves. The taste is fresh and crunchy. Delicious eaten as a snack or in any salad, sandwich, wrap or culinary creation. Sunflower microgreens are low in calories and high in nutrition, making them ideal for any natural and healthy fat loss program. They are a great source of valuable nutrients including proteins, enzymes, folic acid, selenium, lecithin, minerals, including calcium, copper, iron, magnesium, potassium, phosphorous, zinc as well as vitamins A, C, Complex D and E.
Health Benefits of Sunflower:
Contains lecithin which helps break down fatty acids
Activates cells in the immune system
Helps build skeletal, muscular, and neurological systems
Helps eliminate accumulated cholesterol in arterial walls
Improves regeneration of blood supply
Activates deodorizing the body
Helps prevent heart disease
START YOUR MICROGREEN SUBSCRIPTION
There are two different subscription options for each microgreen type. Browse for the perfect subscription for you!